New Features
Works with Eclipse 3.0!
New Gild Problem View: Following the new Eclipse 3.0 standard, "Problems" no longer appear in the "Tasks" view. There is a new view called the "Gild Problem View". It displays Java errors and warnings, plus additional feedback. For a number of common Java problems, some additional error help is supplied to provide hints about what might be causing the problem.

Feature Enhancements
Improved Gild Resource Navigator: The Gild Resource navigator used to reset its state every time Gild was loaded. It now remembers what resources were selected, and what projects/folders were expanded so that the view now looks the same each time Gild is run.
Improved Vertical Ruler: The Gild Editor vertical ruler will now toggle breakpoints on double-clicks. This follows the same convention as the Eclipse Java editor.
Bug Fixes (Since Gild 1.2.2)
Gild Web Browser Now Resolves Relative Paths to Files. There used to be a problem with the Gild Web browser when Active HTML was enable that caused the browser to not resolve relative paths to files unless a <base> tag was present in the <head> portion of the HTML. This made it very cumbersome to include images in HTML files. The Gild web browser now automatically inserts <base> tags when appropriate so that image files can be properly resolved.
Gild Run/Debug Action Enablement Fixed. On very rare occasions, the Gild Run/Debug actions could become permanently disabled. This problem has been fixed.
Gild Problem View Fixed. There was a problem with the Gild Problem view which caused the workbench to throw errors after the Problem View was closed. This has been fixed.
Fixed race condition between compiler and JDT working version.
Fixed debugger error. If the debugger was behind a window and then the debugger was then started, the debugger wouldn't display the correct information.
Known Bugs
Can I open power point and pdf files in Gild?

Both power point (ppt) files and pdf files can be opened in Gild. If the file is double-clicked it will open the editor for this file. If you just want to view these files you can download a ppt or pdf viewer for free. Once the viewer is installed, drag the file into the Gild web browser. Some installations of Gild have "frozen" when loading Adobe Acrobat Reader for pdf files. If this happens open the document externally or make sure Adobe Acrobat Reader has already loaded before dragging the pdf file into the web browser.

When I open my Zipped (Archived) Gild project with Windows XP there are no files.

The default Windows XP unzip program does not properly unzip Gild archive projects. You can unzip the file using another zip program like Win Zip.

You can also import the zip file into Gild as a Gild archive project. Once the files are imported, you go to file>switch workspace and copy the workspace directory name into a file browser. You can view and zip all the files associated with the project.
Windows Installation
Email gildhelp (at) cs.uvic.ca if you have any problems.
1. Install

Gild, Eclipse and the Java SDK
Gild 2.1 is made available through a single installer for Windows users. This installer comes packaged with Java 2 SDK Standard Edition version 1.4.2_06 and Eclipse 3.0.1.
1. Download GILD_2_1_0_Setup.exe
2. Install Gild, Eclipse and the JDK. Run GILD 2.1.0 Setup.exe by double clicking on it. After accepting the license agreement the installer will pop-up a new window informing you that Eclipse 3.0.1 will be installed first; once Eclipse 3.0.1 has finished installing, select the close button. The installer will then automatically install Gild 2.1.0. Once Gild is done installing, the installation program will then install the Java Software Development Kit (JDK) 1.4.2_06. Just go with the defaults for the JDK installation. You will be prompted to restart your system for some changes to take effect. You must restart your system before trying to use Gild.
3. Start Gild. The installer created a shortcut to Gild on your Start Menu. To open Gild go to Start Menu > Gild > Gild 2.1.0.
Mac/Linux Installation (Manual Installation)
Email gildhelp (at) cs.uvic.ca if you have any problems.
1.
Install
Java
SDK
Mac users should already have an appropriate SDK installed. If you do not have a Java SDK on your computer, you must install one. You will need Java 2 SDK Standard Edition version 1.4. Please use version 1.4 only. Gild does not currently support the Java SDK version 1.5.
For Mac OS, if for some reason you do not have the Java SDK, it can be downloaded through the Apple Software Update.
For Windows or Linux, you can get the latest 1.4 installer by following the "Download J2SE SDK" link on the Java download page. Windows users may want to read the Windows Installation Notes for more help with installation. For other operating systems, or Windows 64-bit, follow the appropriate links on the Installation Notes page.


2. Install
Eclipse SDK
If you do not have an Eclipse SDK on your computer, you must install one. You must have release 3.0 RC1 or later. This version of Gild will not work with previous versions of Eclipse.

Download the correct ".zip" file for your operating system from one of the mirrors listed in the Eclipse 3.0 download page
. (Try to download Eclipse 3.0.1)
Unzip this file into an appropriate location on your computer. For example: "C:\Program Files\" on Windows, or in the "/Applications/" folder on the Mac. Mac OS will automatically "unzip" your file to the current directory, so you may have to move it to the Applications folder.



In order to complete the Eclipse install you must run Eclipse once.
Run by double-clicking (or invoking) the executable file. (For example: "C:\Program Files\eclipse\eclipse.exe" on Windows, or "/Applications/eclipse/Eclipse" on the Mac). When Eclipse starts up, you will most likely see the image below. Normally, it will be okay to simply select Use this as the default and do not ask again, then select Okay.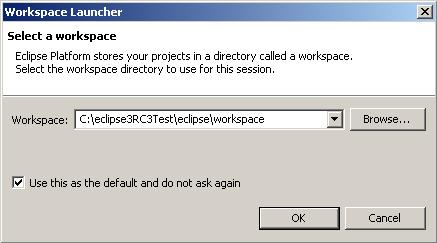 3. Install
Gild

1. Close Eclipse if running. Note: If you have not run Eclipse at least once, you should do so before installing Gild.

2. Download gild2_1_0.zip and then unzip it into your main Eclipse folder For example: the "C:\Program Files\eclipse\" folder on Windows, or the "/Applications/eclipse/" folder on the Mac. (Again, Mac OS will automatically "unzip" your file to the current directory, so you will have to move it to the Applications/eclipse folder. ) The main Eclipse folder is the one that contains the

executable and the "features" and "plugins" folders. All Gild's files will be automatically unzipped into these "plugins" and "features" folders.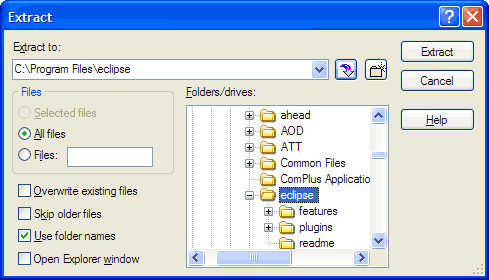 3. Start Eclipse. Gild should now be installed. To start Gild, select Window > Open Perspective > Other... > Gild to start using Gild.